Description
World First PCIe 4.0×4 Controller
The World First PCIe 4.0×4 Controller, Phison PS5016-E16 controller, made by 28nm manufacturing technology. The advanced fabrication process ensures PS5016-E16 has enough compute power for ECC processing when adopting the latest 3D TLC NAND flash. PS5016-E16 also features eight NAND channels with 32 CE targets, DDR4 DRAM caching, and a PCIe 4.0×4 interface. As for features, the chip supports the NVMe 1.3 protocol, LDPC error correction, and Wear Leveling, Over-Provision technologies to improve reliability and durability of SSDs.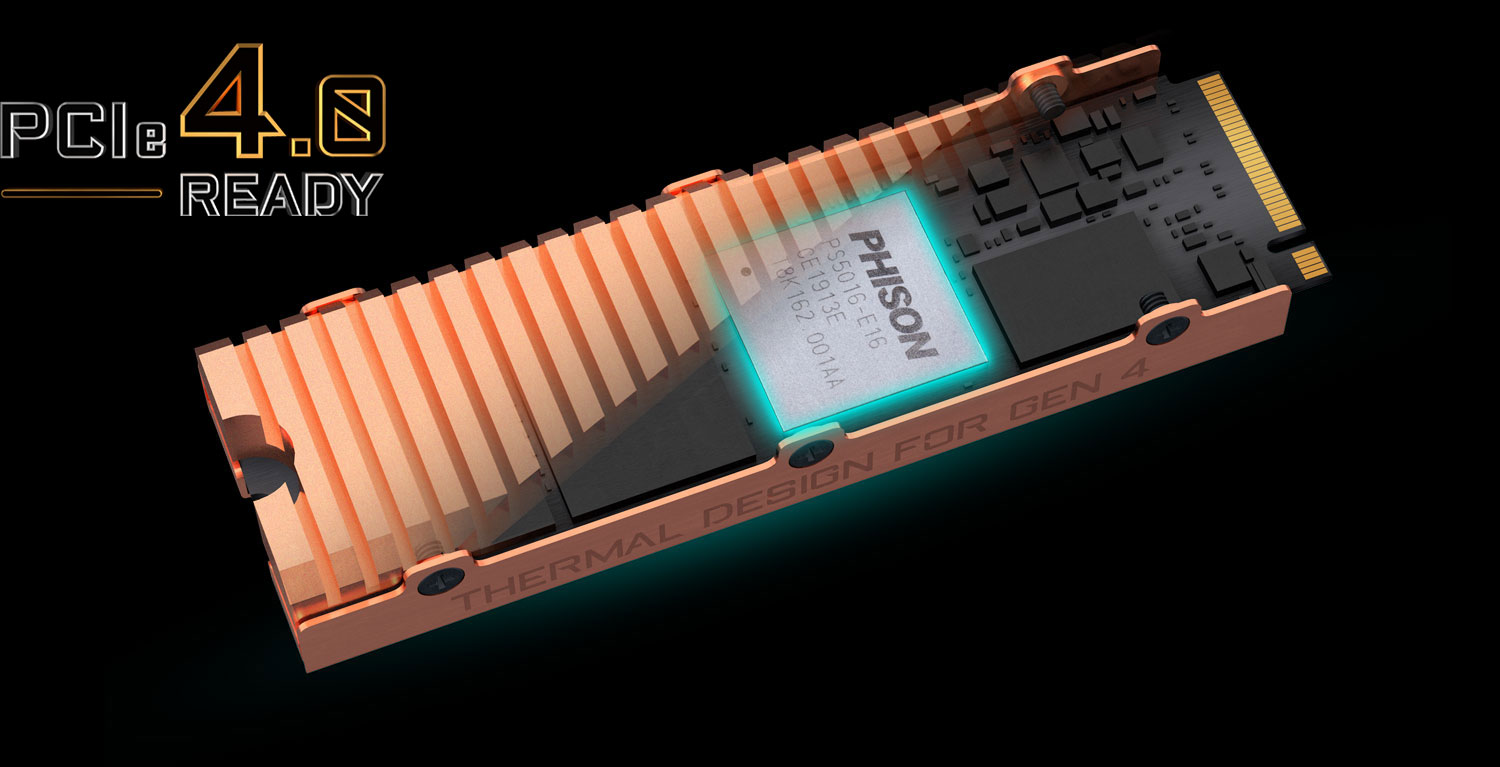 PCIe 4.0×4, NVMe 1.3 Interface
DDR4 DRAM cache
8 CH with 32 CEs
Phison 4th Gen LDPC & RAID ECC
Support Pyrite
Heat spreader for controller
Full Body Copper Thermal Solution for Outstanding PCIe 4.0 SSD Performance
The Full Body Copper Heatsink takes into account the heat transfer from key components on both the front and back of the device, the controller and NAND Flash. Full copper heatsinks have 69% higher heat transfer capacity compared to aluminum heatsinks giving AORUS NVMe Gen4 SSD the best heat dissipation for read/write performance.
Capacity*
Model
Sequential Read MB/s**
Sequential Write MB/s**
Random Read IOPS**
Random Write IOPS**
500GB
AORUS NVMe Gen4 SSD 500GB

( GP-ASM2NE6500GTTD )

5000 MB/s
2500 MB/s
400k
550k
1000GB
AORUS NVMe Gen4 SSD 1TB

( GP-ASM2NE6100TTTD )

5000 MB/s
4400 MB/s
750k
700k
2000GB
AORUS NVMe Gen4 SSD 2TB

( GP-ASM2NE6200TTTD )

5000 MB/s
4400 MB/s
750k
700k
* Note: 1GB = 1 billion bytes. Real useable capacity may vary by models.
** Speeds based on internal testing. Real performance may vary by models.